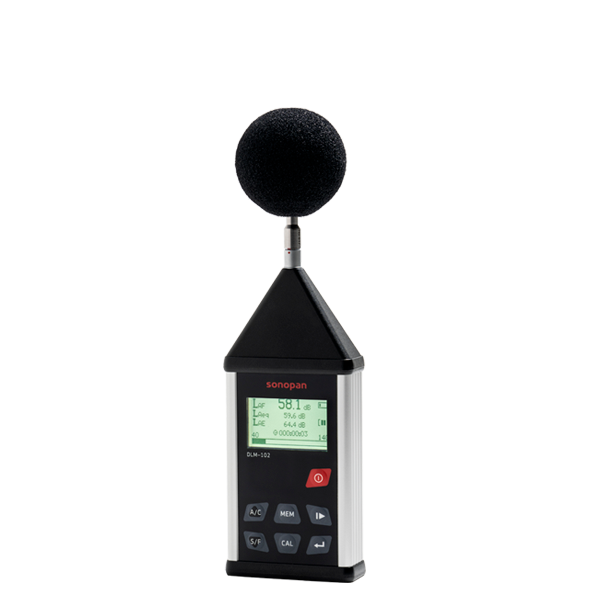 DLM-102
Integrating sound level meter
The DLM-102 meter is a fully digital, single-range integrating sound level meter. It meets the requirements of EN 61672 standard for class 2 meters.




Easy to use
Easiness of use, broad measurement range and small dimensions ensure acoustic measurement in many fields. The meter is perfect for a company occupational health and safety inspector or a building inspector who performs the final building inspection.
Convenience
The calibration of the meter with the use of the KA-50 calibrator is conducted automatically. An easy-to-read lit display makes it easy to read the result in unlit places. The internal Li-ION battery enables long-lasting measurements without the necessity of recharging it.
Co-operation with PC
The memory of the meter enables to save the final measurement results and record many hours' measurement history log. The software attached to the meter enables to download the data from the meter, visualise and analyse it. It is also possible to export the data to a spreadsheet template.
Properties
One measurement range with a dynamic exceeding 100 dB frees the User from the necessity of any change of the measurement range during the measurement.
Possibility of saving the set of the measured values from a maximum of 99 measurement sessions.
Recording of measurement history log with an interval of 100 ms to 1 min.
Co-operation with DSA Monitor software.
Two communication interfaces: USB and RS-232.
Readout of all the measured values without the measurement being interrupted.
Graphical indicator of the instantaneous value in the form of a horizontal bar.
Technical data
Accuracy class:

2

Measurement microphone:

1/4" prepolarized

Measurement range LAeq:

40 - 135 dBA

Measurement range LCPk:

50 - 138 dBC

Frequency weightings:

A, C

Time weightings:

Slow, Fast

Display:

LCD 128x64 backlit

Memory:

99 measurements

History log registration interval:

100 ms - 1 min

Interface:

USB and RS-232

Temperature range:

-10 ÷ +50 ºC

Power supply:

Li-ION 700 mAh internal battery

Continuous operation time:

16 h

Dimensions without microphone:

182 x 81 x 30 mm

Weight:

480 g