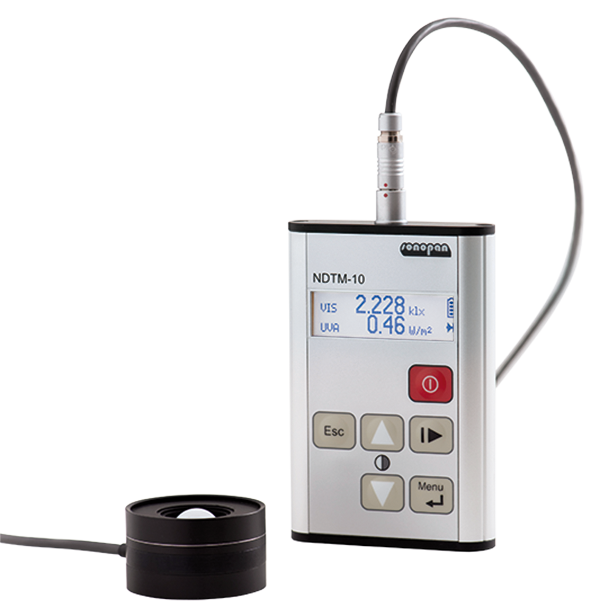 NDTM-10
Radiometer-photometer
The NDTM-10 radiometer-photometer is a two-channel meter intended for the control of observation conditions during non-destructive tests by the magnetic particle method.




Convenience
The meter consists of a high-quality luxmeter and radiometer in the UV-A range. The measurement probe enables simultaneous measurement in the UV-A and VIS channels.
Precision
Owing to good spectral matching to the spectral sensitivity V( λ), illuminance measurement results are accurate, regardless of the types of lamps being used.
Adjustment
The opportunity for periodical adjustment of sensitivity enables the compensation of the detector wear, which significantly extends the lifetime of the instrument. The number of adjustments is not limited.
Technical data
UV-A channel

Spectral range:

320 - 395 nm

Measurement range:

100 W / m2

Resolution:

0.01 W / m2

Directional matching f2:

≤ 3% (CIE)

Nonlinearity f3:

≤ 0.5% (CIE)

VIS channel

Spectral range:

V (λ) CIE

Measurement range:

10 000 lx

Resolution:

0.1 lx

Spectral matching f1':

≤ 3% (CIE)

Directional matching f2:

≤ 3% (CIE)

Nonlinearity f3:

≤ 0.5% (CIE)