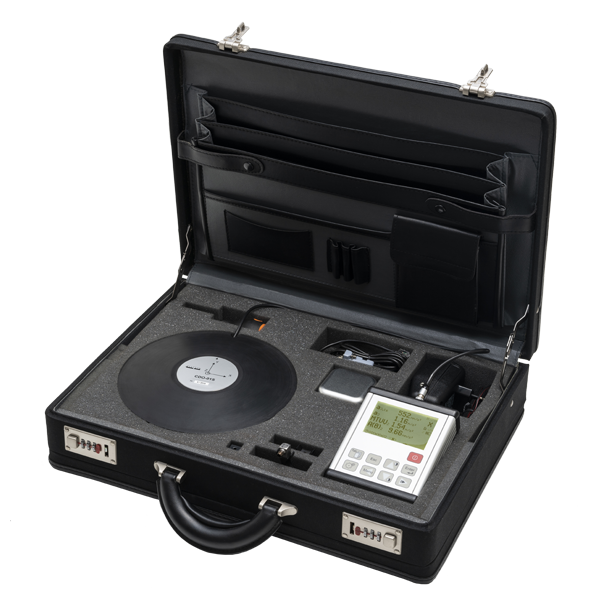 DVA-100
Vibration measurement kit
The DVA-100 set is designed for human body vibration measurement
DVA-100 set
DVA-100 meter.
CDM-3023D transducer with the set of fixings used for hand-transmitted vibration measurement.
CDO-01S transducer used for whole body vibration measurement.
4 GB SD memory card.
1.8 m USB cable.
Battery charger.
Transport carrying case.
Additional equipment:
K-20 vibration calibrator.
DVA-100 meter
The DVA-100 meter is a digital range four-channel meter used for human body vibration measurement. Being an easy-to-use meter, it has a wide measurement range and a variety of correction filters which enable the measurement of both whole-body and hand-transmitted vibrations at all workplaces. The meter is a perfect instrument for each accredited laboratory or company safety inspector for the measurement of vibration at workplaces.
Convenient internal Li-ION battery ensures long-lasting measurements and multiple charging, and it contributes to the reduction of the User's operating costs.
Readable lit display with a higher contrast ratio makes it easier to read a result in poor lighting conditions.
SD memory card ensures unlimited possibilities of recording measurement results.
Easy transfer of data to a PC (USB, SD card).
CDM-3023D hand-transmitted vibration transducer
Triaxial accelerometer with the low unladen weight is intended for vibration measurement of manual devices used by the worker. Its small dimensions and low weight don't interfere with work activities
CDO-01S whole body vibration transducer
Triaxial accelerometer is designed for whole body vibration measurement. It is placed on the seat inside the machine which is operated by the worker. The shape and dimensions of the transducer are well-chosen so as not to interfere with work activities.