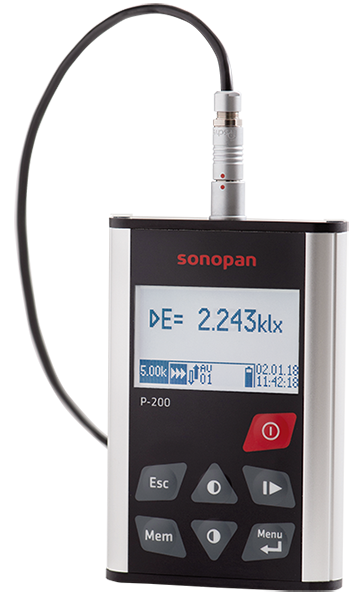 It is designed to control measurement probes made by SONOPAN and used for optical radiation measurement. The probes are complete meters that communicate with a control unit through a digital interface.
Usage
With the aid of the P-200 control unit, the measured result can be read, averaged, displayed and saved to the memory afterwards. It is also possible to change the settings of the probe attached to it and conduct its calibration. The control unit itself recognises the attached probe.
Co-operation with PC
It is equipped with a micro SD memory card, which the measurement results are saved to. The data stored on the memory card can be saved to a PC with the use of a standard memory card reader. The P-200 control panel can also be connected to a PC by a micro USB cable and in this case the memory card is seen as an external drive. The data files saved to the control unit can be open with the RF200C software.
Convenience and durability
The metal casing of the control unit ensures maximum durability and excellent protection of the instrument. The high-capacity built-in Li-ION battery can be charged with the use of a fast charger used as an accessory or any charger used for mobile phones with a micro USB connector.
Technical data
Display:

128 x 64 LCD backlit

Built-in battery:

Li-ION 3.6 V / 1500 mAh

Charger:

5 V / 2.1 A micro USB

Temperature range:

-20 ° C ÷ + 50 ° C

Relative humidity:

<90% (without condensation)

Continuous working time:

23 h

Dimensions (excluding FISHER connector):

107 x 70 x 20 mm

Weight:

150 g